What is the Simply Nuts & More secret?
We are a 30-year old, family-run business dedicated to customer service and satisfaction.
"In roasting nuts of any type, temperature is probably the most important factor – temperature for roasting, the fabrication area, and the storage rooms. Because if just one cog in the wheel is off, so is the finished result. That is why I take great pains to check everything personally and that is why all the mixes are made to your order. They are not already roasted in advance, so all products are as fresh as possible."
Chris Carney, Owner/President
chris@simplynutsandmore.com
Personally checking every order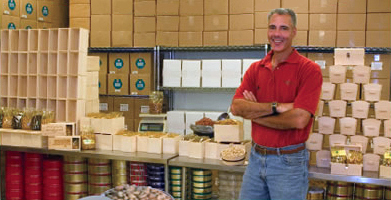 History
The idea for Simply Nuts was born in 1986. As I strolled through a very popular Art Fair, I noticed that there was the same food fare at every Festival. Deep fried foods and burgers were the norm. There were no healthy options. I decided right then to start Simply Nuts and More. I searched high and low for the highest quality products. My offerings immediately included a Cranberry Trail Mix and Hot and Spicy Mix as well as a selection of healthy nuts, including Brazilian cashews, the best in the world. At our first show we exhibited in, we nearly sold out. We now have many options to offer, from Pecan Pralines to Cinnamon Almonds and Chocolate Covered Nuts. We now exhibit in over 225 shows per year, including the Minnesota State Fair. Most people would recognize us from Art Fairs, Sport and Antique shows and local Festivals in the Midwest. After many requests, we branched out into the Corporate Gift Market. We offer unique gifts from hand-crafted wood boxes to a variety of gift tins that can be personalized with a company logo or message. Nearly 96% of our customers are repeat customers, some for 30+ years.
Our Values
We are dedicated to customer service and satisfaction – and we have been for over 30 years!
We put our customers first and take pride in providing them with only the highest quality products.
We take great care of our customers and employees.
We create unique gifts that customers are proud to have represent their company.
The Value of Eating Nuts
Besides providing a wonderful variety of tastes, nuts can help us in many ways. Nuts have the ability to help improve cognitive health, help thwart gallstones, and prevent obesity. Scientists attribute nuts' health benefits to their unique combination of healthy fats, protein, fiber, antioxidants, vitamins, minerals, and numerous phytochemicals. Nuts assist in lowering your cholesterol and triglycerides and keeping your blood glucose levels stable. Nuts also help prevent inflammation, which is linked with a host of chronic diseases. Best of all, nuts taste great and are easy to eat on the go!